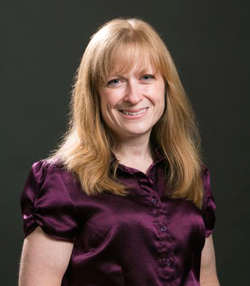 Sarah Tarbox-Berry, PhD
Office Address
Wayne State University
School of Medicine
Department of Neurology, Suite 8C- UHC
4201 St. Antoine
Detroit, MI 48201
Office: (313) 577-1245
Office Fax: (313) 745-4216
Clinic: (313) 745-4275
Clinic Fax: (313) 745-4468
Narrative Bio
I am a licensed Clinical Psychologist and clinical research scientist in the field of developmental psychopathology and liability to schizophrenia. My areas of expertise include: 1) neuropsychological evaluation, 2) severe mental illness, 3) genetic and environmental effects on mental illness, 4) psychotherapy, and 5) quantitative statistics and research methodology.
In the Department of Neurology, I provide neuropsychological evaluation and consultation services to the Neurology Clinics to assist with diagnosis and treatment of individuals with neurological and psychiatric illness. Additional areas of clinical focus include cognitive-behavioral and interpersonal psychotherapy, particularly treatment of depressive and bipolar mood disorders, psychological assessment, and clinical supervision.
My research is in identification of risk and protective factors for development of severe mental illness and application of this information to advance early detection and intervention in young people at risk for schizophrenia. I am especially interested in social functioning and the relation between stress exposure, social functioning, and risk/exacerbation of schizophrenia and related disorders.
Department URL
https://neurology.med.wayne.edu/
Academic Rank
Psychologist, Department of Neurology, Wayne Health
Undergraduate
BA, Psychology: Brandeis University, Waltham, MA
Graduate
MS, Psychology: University of Pittsburgh, Pittsburgh, PA
PhD, Clinical Psychology: University of Pittsburgh, Pittsburgh, PA
Position Title
Neuropsychologist
Internships
Clinical Psychology predoctoral Internship: Western Psychiatric Institute & Clinic, University of Pittsburgh Medical Center, Pittsburgh, PA
Specialties
Neuropsychological evaluation
Severe mental illness
Social development
Statistics and research methodology
Fellowships
Postdoctoral Research Fellowship, Functional Disability Interventions: Department of Psychiatry, Yale University School of Medicine, New Haven, CT
Publications