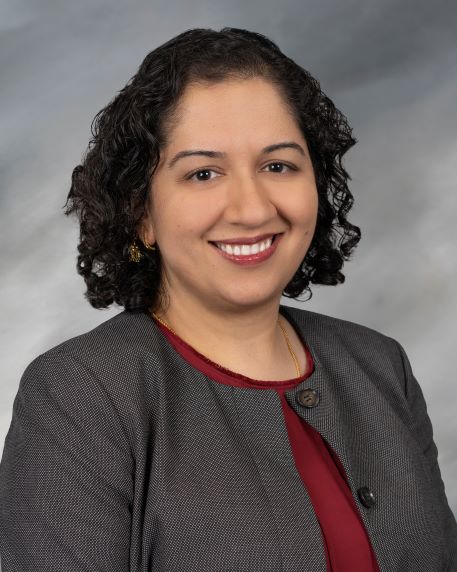 Deepti Zutshi, MD
Office Address
Wayne State University School of Medicine
Department of Neurology, Suite 8C-UHC
4201 St. Antoine
Detroit, MI 48201
Office: (313) 577-1245, (313) 745-1687
Fax: (313) 745-4216
Clinic: (313) 745-4275
Narrative Bio
Deepti Zutshi MD, FAAN, is Associate Professor of Neurology at Wayne State University School of Medicine. She completed her medical training in the six-year Honors Program in Medicine at the Miller School of Medicine at the University of Miami, Miami, Florida. After completing a preliminary medicine internship in Miami at Jackson Memorial Hospital, she completed her neurology residency and clinical neurophysiology fellowship at Emory University, Atlanta, Georgia. She joined the faculty at WSUSOM in 2013.
Dr. Zutshi's primary clinical and research interests are in the field of epilepsy and critical-care electroencephalography. She serves as the director of the epilepsy and pregnancy high risk clinic at Detroit Medical Center, where she provides epilepsy care and management for women with epilepsy who want to become pregnant or wish to become pregnant. Her work in this field has led to national recognition as a reward recipient for the Kimford J. Meador Women in Epilepsy Award in 2019 at the American Epilepsy Society conference.
Dr. Zutshi also has contributed significantly to the areas of graduate medical education, serving in her role as Associate Program Director for the Neurology Residency program where she serves as Director of Residency Admissions as well as several other committees. She served as Program Director for the Clinical Neurophysiology Fellowship from 2016-2022. She is currently the Course Director for the Human Disease Foundation segment III course for second year medical students at WSUSOM and faculty advisor and mentor for students who wish to pursue neurology as a career.
Academic Rank
 Associate Professor of Neurology
Undergraduate
University of Miami, Coral Gables, Florida, B.S. in Biology, 2003.
Medical
Miller School of Medicine, University of Miami, Miami, Florida, M.D. 2007.
Position Title
Associate Professor of Neurology
Segment II, HDF III Course Director (WSUSOM)
Director of Holden Lab, Comprehensive Epilepsy Clinic, Detroit Medical Center
Associate Program Director and Director of Admissions, Neurology Residency Program
Residency
Preliminary Medicine Internship, Jackson Memorial Hospital/University of Miami, Miami, Florida, 2008.
Neurology Residency, Emory University, Atlanta, Georgia, 2008-2011
Fellowships
Clinical Neurophysiology, Emory University, Atlanta, Georgia 2012
Specialties
Comprehensive Epilepsy Center
Interests
Epilepsy, EEG in the acutely ill patient, pregnancy and epilepsy, women's health and neurology. Quality Improvement in Epilepsy, COVID and telemedicine
Publications