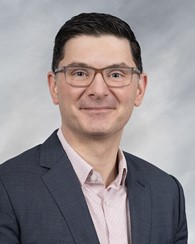 Sokol Todi, PhD
Narrative Bio
Dr. Sokol V. Todi is Professor in the Departments of Pharmacology and Neurology at Wayne State University School of Medicine and the Chair of the Department of Pharmacology. Until January 2022, Dr. Todi served as the Associate Dean for Postdoctoral Affairs for the university. Dr. Todi opened the doors of his laboratory at Wayne State in December 2010, was awarded Tenure in 2015, and was promoted to full Professor in 2020.
During his time at Wayne State, Dr. Todi has been funded through R00 and R01 mechanisms from the NIH, as well as funds from non-governmental organizations, such as the National Ataxia Foundation, which recognized him two years in a row as a Young Investigator in Spinocerebellar Ataxias, and more recently with a Pioneer Award in SCAs. Dr. Todi's work has also been recognized internally at Wayne (e.g. the Career Development Chair Award). Dr. Todi's laboratory investigates mechanisms of neurodegeneration and neuroprotection in age-dependent neurodegenerative diseases caused by misfolded proteins, with particular focus on polyglutamine disease proteins.
Research Summary
Age-related neurodegeneration, including Alzheimer's Disease, Parkinson's Disease and Polyglutamine Diseases (e.g. several Spinocerebellar Ataxias and Huntington's Disease), afflicts millions of people worldwide. General understanding of molecular mechanisms involved in each of these diseases is incomplete and no cures exist for them. By using a combination of in vitro biochemistry, mammalian cell biology and fruit fly (Drosophila melanogaster) genetics, the Todi laboratory is working to identify and characterize genes important for neuronal homeostasis during normal function and in disease. They have made great progress in recent years towards understanding mechanisms of disease as well as narrowing down on viable therapeutic approaches.
Another major focus of their work centers on the physiological functions of a large class of proteases known as deubiquitinating enzymes (DUBs). DUBs are critical regulators of numerous cellular pathways and have recently emerged as potential therapeutic targets for various diseases, including neurodegenerative ones. The work that the Todi lab has been conducting with DUBs, some of which themselves cause degeneration when mutated, is shedding new light into basic cell biology and identifying novel therapeutic targets and strategies.
Lastly, the Todi lab recently expanded their work into novel processes important for protein quality control (proteostasis) during normal physiological activities as well as in diseases of the nervous system by centering on unconventional mechanisms involving the small protein modifier, ubiquitin.
Office Address
 Scott Hall, Suite 3108
Other Information
MENTORSHIP STATEMENT
My focus as a mentor is simple: my mentees and their long-term success and wellbeing. As a mentor to high school, undergraduate and graduate students, as well as postdocs and faculty, this focus has always remained sharp, although my approach to ensuring successful outcomes does vary with each mentee.
Each mentee is a different person with a different, fascinating and multi-faceted background; with different types of talent; with different and sometimes changing aspirations; and in need of different types of help. Thus, from the very inception of a mentoring relationship and plan, my mentee and I work together to understand each other's goals and dreams, backgrounds, strengths and weaknesses. Often, I become a mentee myself and learn from those under my guidance and mentorship.
To ensure my mentees' success and wellbeing, we work together to make sure that each of them has frequent and easy access to me in the laboratory and off campus. We interact often and informally. We ascertain that they are happy, safe, and secure — aspects that are necessary for unimpeded progress and success during their training and beyond. We work together to accomplish short- and long-term goals that we have devised collectively. We work together so that each mentee gradually reaches their full independence. We work together so that each mentee develops and follows ethical behavior and conduct at every level. We work together to ensure that each mentee knows that I will always be there for them, at any time of their lives.
Each mentee is a different person. Each deserves a different plan, approach, and timeline. Each should succeed in their own goals. And each must be treated with grace, respect and care. 
Undergraduate
University of Nebraska-Lincoln, B.Sc. (Biological Sciences) 1995. High Distinction Graduate
Graduate
University of Iowa, Iowa City, IA, PhD (Neuroscience) 2005
Position Title
Professor and Chair of the Department of Pharmacology; Professor of Neurology
Fellowships
Post-Doctoral Fellow, University of Iowa College of Medicine, 2005-2007. Ubiquitin-dependent pathways in neurodegenerative diseases.
Post-Doctoral Fellow, University of Michigan Medical School, 2007-2010. Ubiquitin-dependent pathways in neurodegenerative diseases.
Prior Appointments
Research Assistant Professor, Neurology, University of Michigan, 2010
Interests
Age-related neurodegenerative diseases, molecular mechanisms of neurodegeneration and neuroprotection, ubiquitin-dependent pathways in cell function, deubiquitinating enzymes, ataxias, polyglutamine diseases, multiple sclerosis.
Publications
Search PubMed for Dr. Todi's publications