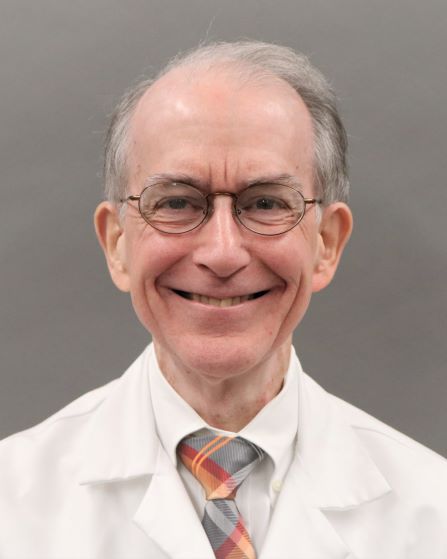 Geoffrey Barger, MD
Office Address
8D University Health Center 4201 St. Antoine Detroit, MI 48201
Narrative Bio
Dr. Barger has served as attending physician at the Detroit Medical Center and Karmanos Cancer Center from 1990-present. He has organized and directed the weekly Neuro-Oncology conference from 1990-present and has served as the Chairman for the Department of Neurology Quality Assurance/Improvement Committee, Harper Hospital from 1991-present. Dr. Barger has served as the Co-Chief of the Neuro-Oncology Multidisciplinary Team of the Karmanos Cancer Center from 2003-present.
Dr. Barger teaches and attends at the Harper Hospital and Karmanos Cancer Center inpatient Neurology Service as well as for the elective in Neuro-Oncology (which includes outpatient care).
Awards & Honors
2011 listed as one of the top 1% of physicians in the US by US News and World Report
2005-2002 Listed as one of "The Best Doctors for Cancer in America" by Castle Connolly Medical Ltd.
2005-2012  Listed as one of "The Best Doctors in America" by Best Doctors Inc.
2007- present -Chief, Neurology Service, Karmanos Cancer Center
2003-2007-Co-Chief, Neuro-Oncology, Karmanos Cancer Center
Other Information
2
006-2011 Agency: National Cancer Institute
Title: Genetic and Molecular Epidemiology of Adult Glioma
Amount: $8,000,862
PI: Margaret R. Wrensch, Ph.D.
Consultant Neuro-Oncology: Geoffrey R Barger, MD
2
007-2012 Agency: National Cancer Institutetle:
Title: Tryptophan Metabolism in Human Brain Tumors
Amount: $1,372,623
PI: Csaba Juhasz, M.D., Ph.D.
Co-PI: Geoffrey R
Undergraduate
Villanova University, B.S., 1971
Medical
Jefferson Medical College, M.D., 1975

Board Certification:  American Board of Psychiatry and Neurology (Neurology), 1981
Position Title
Associate Professor of Neurology
Internships
Thomas Jefferson University Hospital, 1975-1976
Residency
Pennsylvania Hospital, 1976-1979
Specialties
neuro-oncology
Fellowships
Moffitt Hospital and The Brain Tumor Research Center, University of California San Francisco, 1979-1982
Prior Appointments
University of California, San Francisco, 1979-1982
Interests
Neuro-Oncology, Primary Brain Tumors, Metastatic Brain Tumors
Publications
Mittal S, Szlaczky MC, Barger GR. Low-grade gliomas in adults. Current Treatments in Options in Neurology, 10: 271-284, 208.
Wrensch MR, Barger GR. Familial factors associated with malignant gliomas. Genetic Epidemiology 7:291-301, 1990.
Wrensch M, Lee M, Miike R, Newman B, Barger GR, Davis R, Wiencke J, Neuhaus J. Familial and personal medical history of cancer and nervous system conditions among adults with glioma and controls. American Journal of Epidemiology 145:581-593, 1997.
Aldape K, Simmons ML, Davis RL, Miike R, Wiencke J, Barger GR, Lee M, Chen P, Wrensch M. Discrepancies in Diagnoses of Neuroepithelial Neoplasms: The San Franciso Bay Area Adult Glioma Study. Cancer 88: 2342-2349, 2000.
Sloan AE, Dansey R, Zamorano L, Barger G, Hamm C, Diaz F, Baynes R, Wood G., Adoptive immunotherapy in patients with recurrent malignant glioma: Preliminary results of using autologous whole-tumor vaccine plus Granulocyte-macrophage colony-stimulating factor and adoptive transfer of Anti-CD3-activated lymphocytes. Neurosurgery Focus 9: 1-8,2000.
Chang SM, Seiferheld W, Curran W, Share R, Atkins J, Choucair A, Kresl J, Thoron L, Cairncross G, Gilbert M, Bahary JP, Dolinskas C, Louis DN, Bushunow P, Buckner J, Barger G, and Mehta M. Phase I study pilot arms of radiotherapy and carmustine with temozolomide for anaplastic astrocytoma (Radiation Therapy Oncology Group 9813): Implication for studies testing initial treatment of brain tumors. Int J Radiat Oncol Biol Phys 59:1122-1126, 2004.
Wrensch M, Weinberg A, Wiencke J, Miike R, Sison J, Barger G, Delorenze G, Aldape K, Kelsey K. History of chicken pox and shingles and prevalence of antibodies to varicella-zoster virus and three other herpesviruses among adults with glioma and controls. American Journal of Epidemiology 161: 929-938, 2005.
Juhasz C, Chugani DC, Muzik O, Wu D, Sloan AE, Barger G, Watson C, Shah AK, Sood S, Ergun EL, Mangner TJ, Chakraborty PK, Kupsky WJ, Chugani HT. In vivo uptake and metabolism of alpha-[(11)C] methyl-L-tryptophan in human brain tumors. Journal of Cerebral Blood Flow and Metabolism 26: 345-357, 2006.
Fruehauf JP, Brem H, Brem S, Sloan A, Barger G, Huang W, and Parker R. In vitro drug response and molecular markers associated with drug resistance in malignant gliomas. Clinical Cancer Research 12:4523-4532, 2006.
Shaw EG, Berkey B, Coons SW, Bullard D, Brachman D, Buckner JC, Stelzer KJ, Barger GR, Brown PD, Gilbert MR, and Mehta M. Recurrence following neurosurgeon-defined gross total resection of adult supratentorial low- grade glioma. Journal of Neurosurg, 2008 Nov; 109(5):835-41.
Mittal S, Szlaczky MC, Barger GR. Low-grade gliomas in adults. Curr Treat Options Neurol. 2008 Jul;10(4):271-84.
Beaumont TL, Kupsky WJ, Barger. Gliosarcoma with multiple extracranial metastases: case report and review of the literature. J Neurooncol. 2007 May:83(1):39-46.
BOOK CHAPTER:
Barger GR, Douglas JG, Kupsky WJ, Sloan AE, Zak IT. Medulloblastoma. Chapter 35 in Textbook of Neuro-Oncology, eds Berger M, and Prados M, Elsevier Saunders, p.253-269, 2005.