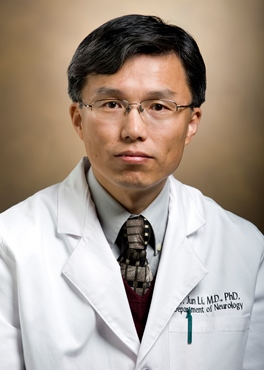 Jun Li, MD, PhD
Clinic Appointments: (313) 745-4275
(313) 745-4216 (fax)
Narrative Bio
Dr. Jun Li is a tenured Professor and the current Chair of the Department of Neurology at Wayne State University School of Medicine. He is also the Scientific Director of Translational Neuroscience Initiative of this University. He relocated from Vanderbilt University in March 2018 where he served as a tenured Professor of Neurology and the director of the Charcot-Marie-Tooth clinic over the past 9 years. Dr. Li has specialized in inherited peripheral nerve diseases and myelin biology. As a physician scientist, Dr. Li was a recipient of the NIH K08 award in 2004. His laboratory is currently funded by the NIH (R01), Department of Veterans Affairs (merit award) and Muscular Dystrophy Association. With these supports, his laboratory has been highly productive (a total of 75 articles in peer-reviewed journals; he served as the first or last author in 53 of them). He has been invited to give numerous talks nationally and internationally. In 2014, he received the Wolfe Research Prize from the American Neurological Association (ANA). Dr. Li has served as a member of the Scientific Advisory Board for the Muscular Dystrophy Association, Charcot-Marie-Tooth Association and Talia Duff Foundation. He has also served as a valued member of the scientific committee of Peripheral Nerve Society. .
Research Summary:
Dr. Jun Li's research has two arms – basic science in his laboratory (Research Lab) and clinical research. Research in our lab is focused on acquiring a better understanding of Schwann cell biology and inherited peripheral nervous diseases. We investigate how myelinating Schwann cells interact with axons and how genetic mutations in various types of inherited peripheral neuropathies - also known as Charcot-Marie-Tooth diseases (CMT) - alter the molecular signaling between the two types of cells. We hope that these investigations will lead to molecular targets for developing therapeutic interventions.
Clinical presentation of patients with CMT typically includes distal muscle weakness, sensory loss, foot deformities and absent deep tendon reflexes. CMT has been classified into several categories based on electrophysiological and pathological changes in the nerves and the array of genetic causes. Currently, there are over 90 specific genes that are linked with different subtypes of CMT. However, over 20% of diagnosed inherited neuropathies still have no known genetic cause.
Currently we are studying several genes and their related CMT disease using a variety of in vitro and in vivo models in our lab. One of these genes is described below as example:
PMP22 – Peripheral Myelin Protein 22 - An autosomal dominant duplication of a 1.4Mb region on chromosome 17.p11.2 containing the PMP22 gene results in Charcot-Marie-Tooth disease type-1A (CMT1A) which affects one out of 5000 people. CMT1A is the most common form of inherited neuropathy. A deletion in the same region of chromosome 17p11.2 causes hereditary neuropathy with liability to pressure palsies (HNPP). Our studies utilize specimens from patients with HNPP, PMP22 knockout mice or primary culture Schwann cells/neurons to understand how the mechanical susceptibility occurs in the HNPP. In addition, we also investigate how over-expression of PMP22 in CMT1A affects myelination and causes axonal loss.
With respect to our clinical studies, Dr. Li directs a CMT clinic that is specifically designated to the patients with inherited neuropathies. This multi-disciplinary clinic occurs weekly at University Health Center. We are interested in genotype/phenotype correlation, identification of novel genes causing CMT, and use of human skin biopsy as a minimally invasive tool in evaluation of peripheral pathology. In addition, we are a part of the NIH funded Rare Disease Clinical Research Network - Inherited Neuropathies Consortium. If you are interested in our CMT studies, please contact our study coordinator Melody Gilroy at mgilroy@med.wayne.edu or call 313-966-0473. For patients who are interested in visiting our CMT clinic, please contact Theodora Nwamba; Tel: 313-745-5124; tnwamba@dmc.org.
Awards & Honors
1999: David Kotlarek Award from Ohio State University for the excellence in patient care
2004: NIH K08 Award
2005- present: Best Doctors in America
2005: Faculty Research Excellence Award, Wayne State University School of Medicine
2008: Junior Faculty Award – Science, Wayne State University
2014: Wolfe Research Prize from American Neurological Association
2017: Littlejohn Faculty Fellow, Vanderbilt University
10/02/2017: Featured Scientist by Vanderbilt Brain Institute
Graduate
Drexel University College of Medicine (former name = Hahnemann University), PhD (Neuroscience), 1995
Medical
Anhui Medical University, MD, 1985
Position Title
Professor and Chair of Neurology
Scientific Director of Translational Neuroscience Initiative
Internships
Mount Carmel Hospital, Columbus, OH, 1995-1996
Residency
Ohio State University Medical Center (Neurology), Columbus, OH, 1996-1999
Specialties
neuromuscular-program
Fellowships
University of Utah (EMG/Neuromuscular Diseases), Salt Lake City, UT, 1999-2000
Interests
Inherited peripheral nerve diseases, myelin biology, motor neuron diseases, electromyography, skin biopsy for evaluation of peripheral nerve diseases
Publications
(SELECTED)
1. Li J, Bai YH, Ghandour K, Qin P, Grandis M, Trostinskaia A, Ianakova E, Wu XY, Schenone A, Vallat JM, Kupsky WJ, Hatfield J, Shy ME. Skin biopsies in myelin related neuropathies; bringing molecular pathology to the bedside. Brain, 2005;128 (Pt 5):1168-77. PMID: 15774502.
2. Li J, Bai YH, Ianokova E, Grandis M, Uchwat F, Trostinskaia A, Krajewski KM, Garbern J, Kupsky WJ, Shy ME. Major Myelin Protein Gene (P0) Mutation Causes a Novel Form of Axonal Degeneration. J Comp Neurol; 2006; 498(2):252-265. PMID: 16856127.
3. Bai YH, Ianakova E, Pu Q, Ghandour K, Levinson R, Martin JJ, Ceuterick-de Groote C, Mazanec R, Seeman P, Shy ME, and Li J. Effect of an R69C mutation in myelin protein zero gene on myelination and ion Channel Subtypes. Arch Neurol 2006; 63: 1787 – 1794. PMID: 17172621.
4. Li J, Ghandour K, Radovanovic D, Shy RR, Krajewski KM, Shy ME,Nicholson GA. Stoichiometric alteration of PMP22 protein determines the phenotype of HNPP. Arch Neurol 2007; 64 (7): 974-978. PMID: 17620487.
5. Chow CY, Zhang YL, Dowling J, Jin N, Adamska M, Shiga K, Szigeta K, Shy ME, Li J, Zhang XB, Lupski JR, Weisman L, Meisler MH. Mutation of FIG4 encoding a PI(3,5)P2 phosphatase causes neurodegeneration in the pale tremor mouse and in patients with CMT type 4J. Nature; 2007; 448 (7149): 68-72. PMID: 17572665.
6. Zhang XB, Chow CY, Sahenk Z, Shy ME, Meisler MH, Li J. Mutation of FIG4 Causes a Rapidly Progressive, Asymmetric Neuronal Degeneration. Brain, 2008; 131(Pt 8):1990-2001. PMID: 18556664.
7. Katona I, Wu XY, Feely SME, Sottile S, Siskind C, Miller LJ, Shy ME, and Li J. PMP22 Expression in Dermal Nerve Myelin from Patients with CMT1A. Brain 2009; 132(Pt 7):1734-40. PMID: 19447823; PMCID: PMC2724915.
8. Saporta MA, Katona I, Lewis RA, Masse S, Shy ME, and Li J. Shortened Internodal Length of Dermal Myelinated Nerve Fibers in CMT1A. Brain 2009; 132: 3263-73. PMID: 19923170. PMCID: PMC2800385
9. Bai Y, Zhang XB, Katona I, Saporta MA, Shy ME, O'Malley HA, Isom LL, Suter U, Li J. Conduction Block in PMP22 Deficiency. Journal of Neuroscience 2010; 30: 600-608. PMID: 2001523; PMCID: PMC3676309.
10. Guo JS, Wang LM, Zhang Y, Wu JW, Arpag S, Hu B, Imhof BA, Tian XX, Carter BD, Suter U, Li J. Abnormal Myelin Junctions and Permeability in PMP22 Deficient Nerves; Annals of Neurology 2014; 75 (2): 255-65. PMID: 24339129; PMCID: PMC4206215.
11. Liu PF, Gelowani V, Zhang F, Drory VE, Ben-Shachar S, Roney E, Medeiros AC, Moore RJ, DiVincenzo C, Burnette WB, Higgins JJ, Li J, Urtreger AO, and Lupski JR. Mechanism, Prevalence, and More Severe Neuropathy Phenotype of the Charcot-Marie- Tooth Type 1A Triplication. American Journal of Human Genetics; 2014, 94 (3): 462-9. PMID: 24530202; PMCID: PMC3951935.
12. Dortch RD, Dethrage LM, Gore JC, Smith SA, and Li J; Proximal Nerve Magnetization Transfer MRI Relates to Disability in Charcot-Marie- Tooth Diseases. Neurology 2014; 83: 1545-53. PMID: 25253751; PMCID: PMC4222857.
13. Zou JL, Hu B, Arpag S, Hamilton A, Zeng YS, Vanoye C, and Li J. Reactivation of Lysosomal Ca2+ Efflux Rescues Abnormal Lysosomal Storage in FIG4 Deficient Cells. Journal of Neuroscience 2015; 35: 6801-6812. PMID: 25126456; PMCID: PMC4412898.
14. Schlebach J, Narayan M, Alford C, Mittendorf KF, Carter B, Li J, Sanders CR. Conformational Stability Limits the Cellular Trafficking of Pathogenic Variants of the Integral Membrane Protein PMP22. Journal of the American Chemical Society. 2015; 137: 8758-68; PMID: 26102530.
15. Hu B, Arpag S, Zhang XB, Möbius W, Werner H, Sosinsky G, Ellisman M, Zhang Y, Hamilton A, Chernoff J, Li J. Tuning PAK Activity to Rescue Abnormal Myelin Permeability in HNPP. PLOS Genetics; 2016; 12(9):e1006290. doi: 10.1371/journal.pgen.1006290. PMID: 27583434
16. Hu B, Arpag S, Zuchner S, Li J. A Novel Missense Mutation of CMT2P Alters Transcription Machinery. Annals of Neurology; 2016; 80: 834-845. PMID: 27615052; PMCID: PMC51774558 (with Editorial Commentary).
17. Mittendorf KF, Marinko JT, Hampton CM, Hadziselimovic A, Schlebach JP, Law CL, Li J, Wright ER, Sanders CR, and Ohi MD. Peripheral Myelin Protein 22 Alters Model Membrane Architecture. Science Advances; 2017; 3: el700220; doi: 10.1126/sciadv.1700220. PMID: 28695207.
18. Hu B, Simmons M, Ravi V, Arpag S, Moiseev D, Castoro R, Mobley BC, Burnett BW, Siskind C, Day JW, Yawn R, Feely S, Li YB, Yan Q, Shy ME, Li J. Myelin Abnormality in CMT4J Recapitulates Features of Acquired Demyelinating Neuropathies; ePub ahead of print; Annals of Neurology; 2018.